Tom DeLonge October 22 at 7:17 AM ·

@tothestarsacademy has been invited into private meetings with a particular European Government on UFOs. I am on my way this morning to discuss some very interesting cooperation opportunities with a few International partners. :) #TECHNOLOGY #DATA #DISCLOSURE
Accompanying it was a photo of an airliner taken through the window of an airport terminal. Obviously, DeLonge was flying to Europe, and he wanted it to seem all mysterious. But the "mystery" was solved on the following day when he posted, "#ROME Any Italian fans here today? I'll be walking around enjoying the amazing history."
Tom DeLonge does Rome
It turns out that DeLonge's comment "@tothestarsacademy has been invited into private meetings with a particular European Government on UFOs" was quite disingenuous. In fact,
TTSA's presentation was sponsored by the Italian UFO group CUN
, which has been in existence since 1967. It is a private UFO group much like MUFON, and has no official government connections.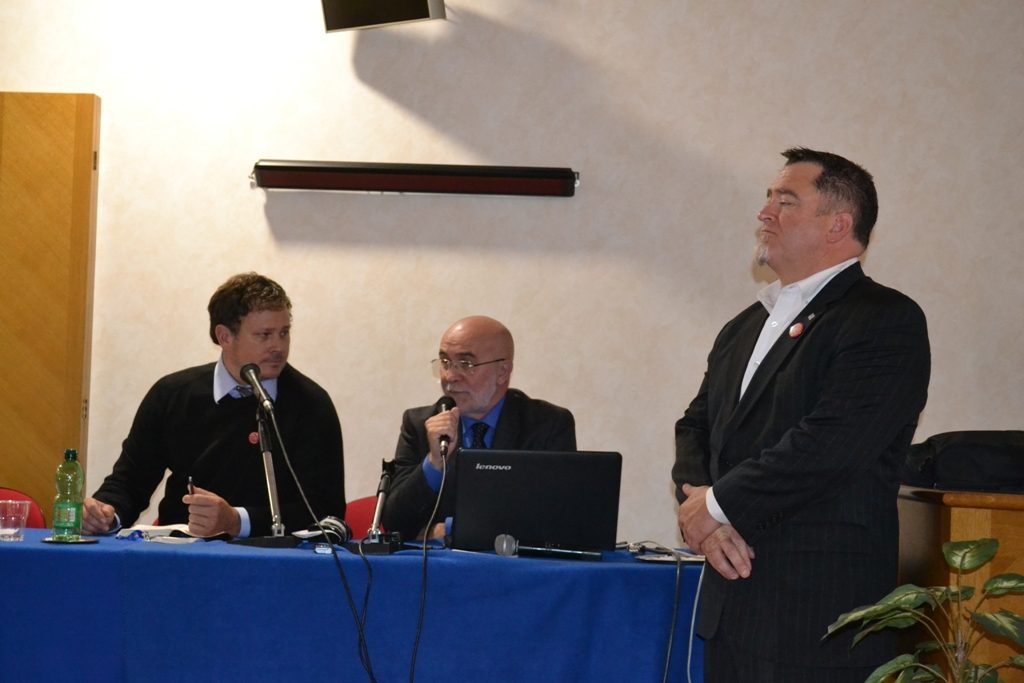 Tom DeLonge (left) and Luis Elizondo (right) speak to CUN in Rome.
Before TTSA's presentation on October 27, a panel of Italian UFOlogists spoke, talking mostly about UFO history in fairly conventional terms. We hear about Project Blue Book, the UN UFO session, Carl Jung, J. Allen Hynek, Edward Ruppelt, etc.
The whole session, almost four hours long, was recorded and posted to YouTube, unedited
. (Approximately the first 30 minutes of the video are empty, waiting for the program to start.)
One of the slides of the Italian UFOlogists, offered with the hope of 'not offending anyone'(!). It's about SETI.
The guy standing says "Our latest technological discoveries notwithstanding, we have not yet received any
message. It's useless, there doesn't exist any civilization except us on earth."
Elizondo spoke first, to explain "why we are here." Unfortunately, "technical difficulties" prevented him from showing his slides, so he handed the microphone to DeLonge, to tell the story behind TTSA. DeLonge said,
"To The Stars has created a private company with a perpetual funding mechanism. We work with government partners to achieve the revolutionary change in mankind's destiny...[TTSA has] the first set of major motion pictures and television series in development... [also] a multi-year program plan to launch satellites into space with lasers.. and a robust program plan to achieve the engineering of the space-time metric, and most people people would call that 'anti-gravity'."
DeLonge did not explain exactly how, or when, these engineering miracles would be accomplished.
Elizondo finally got his slides to work, and continued with his version of UFO history.
A full transcript of TTSA's comments has been prepared by UFO Joe
(thanks, Joe!).
On October 27, UFO researcher Curt Collins posted to the Facebook page for his Blog
Blue Blurry Lines
that
Elizondo claimed that this photo was "real."
(from Ray Palmer's magazine).

The Italian UFO group CUN hosted a presentation in Rome by Tom DeLonge on the TTSA, and Luis Elizondo on AATIP. Elizondo discussed the famous 1952 Washington, DC saucer event saying:
"In the early 1950s, the United States had another very significant event over our nation's Capitol. Once again, these objects were identified both with the naked eye and again on radar, and unlike Roswell, many people had cameras and were able to take photographs. And what you see here are real photographs, along with the story - the headline story that came out."


Elizondo's picture is from the YouTube preview image for "UFO Sightings over Washington D.C. and The White House in 1952" by FindingUFO. It's a frame from a CGI-animated version of a picture of lens flares, and an image from an EC comic book found in the files Project Blue Book.

"Photo Fakery: Washington, DC Flying Saucers 1952," goes into detail on the history of this bogus UFO photo.
Other problems with Elizondo's presentation were quickly noted:
Elizondo presented a slide promoting the supposed UFO from STS-48, even suggesting that the Space Shuttle crew witnessed it. James Oberg has thoroughly debunked this claim, back in 1992.
Elizondo showed a photo of a supposed "foo fighter" allegedly taken during World War II, which he said "was actually taken by a pilot in World War II.". It is almost certainly a hoax, its provenance is unknown. No authentic photo of a supposed "foo fighter" is known to exist.
In Elizondo's overview of UFO history, he said, "later, in the 1940s, we had the Roswell incident. I'm not going to speculate in this room what crashed at Roswell. But those of you who are familiar with the world of intelligence, know that a military response is usually symmetrical to the incident. A crashed weather balloon does not usually merit the response of a colonel, several flat bed, military vehicles and an armed force." These claims are completely unsupported. There is no proof for the claim that "a colonel" was involved, or any military vehicles or guards.
In response to a question about alleged "force fields" surrounding supposed UFOs, Elizondo replied: "We can. In some cases if we know what to look for, we can actually see a distortion around these craft, surrounded it. We believe it's a result of the propulsion that's being used. In essence, an event horizon is created. Imagine a bubble being created around the vehicle and if you are bending space time in a localized area, one can expect electromagnetic energy to behave differently inside that event horizon than outside." This is preposterous. The so-called "glowing aura" (so named in the headline of the original New York Times story about TTSA) seen in the TicTac and Gimble UFO videos is simply a processing effect of the infrared imaging circuit. This was pointed out long ago, and it is amateurish to claim otherwise.
Elizondo's photo of supposed "foo fighters," almost certainly a hoax.
All along one frustration has been that TTSA has released little, if any, information about the cases they are promoting. But with
this unedited two-hour-plus presentation by DeLonge and Luis Elizondo, we start to understand what is happening. Both DeLonge and Elizondo are Babes in the Woods when it comes to UFO claims. (
We knew about DeLonge's UFO foolishness for quite some time
, but until now we knew relatively little about Elizondo.) Neither of them has any real understanding of the difference between credible and non-credible sources of information concerning UFOs. Neither of them seems to have any "filter" for baseless UFO claims, and neither seems to understand the prevalence of misinformation in UFOology. (Indeed,
Elizondo has previously boasted that he had purposely stayed away from reading UFO books
, so as not to prejudice himself about it, meaning he knows practically nothing on the subject.) They seem to believe every UFO claim they hear. The longtime Canadian UFO researcher Chris Rutkowski posted to the Facebook group UFO Updates, "I am more concerned every day that anyone affiliated with the TTSA has limited knowledge about the subject, beyond pop culture and sensational tabloid material." Indeed.
On October 28, DeLonge posted to Facebook,
Thank you to the Italian Government for the security you provided to me and my team all week, and thank you for having your AIR FORCE Generals, UNITED NATIONS Officials, INTELLIGENCE Operatives and VATICAN representatives attend the @tothestarsacademy briefing on Unidentified Aerial Phenomena and the ADVANCED AERIAL THREAT IDENTIFICATION THREAT PROGRAM here in Rome, Italy. It was my pleasure to represent the United States and start the international conversation here, in such a wonderful country.
Here DeLonge sounds like a cross between Stephen Greer (claiming to need protection while presenting dramatic UFO revelations) and George Adamski (claiming to meet with VATICAN representatives). Let's hope that, assuming these distinguished persons actually were present, they realize that they've been fed a line of pure, old-fashioned amateurish UFO misinformation. They might as well be listening to Stanton Friedman. In fact, as much as it pains me to say this, I think that Friedman is more credible than DeLonge, however slightly. Friedman wouldn't fall for the Capitol Dome UFO photo, or the unsourced Foo Fighters one.